Pajamas with feet. For adults.
Seriously now… Why didn't I think of that?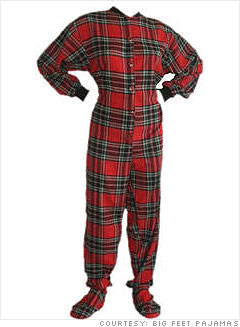 In fact- I could have sworn that I did. I distinctly remember saying, at some point in the last decade, "I'm going to find a pair of pajamas with feet. I miss those things." Someone, I don't remember who, told me that the likelihood they made them for adults was minimal. That was the end of that. See, if I was smart, like Valerie Johnson, I wouldn't have given up there. I would have gone on to produce my own pajamas-with-feet. And, if my luck was anything like Johnson's, I would have made millions of dollars.
Johnson, a former stock broker, took a $50,000 investment and turned "Big Feet Pajama Company" into a 2 million dollar a year company.
In 2007, Big Feet PJs were chosen as celebrity gifts for the Oscar Ceremony.
You can listen to the full WDITOT story here, or order your own pair at BigfeetPJs.com.
Now's probably a good time to note that our month of exclusively covering inventions, both new and old, is coming to an end. Of course, inventions are always fair game when it comes to unique and exciting business stories, so don't worry- you'll probably be seeing plenty more.
But, to wrap things up, we'll be covering a great invention every day this week. And we'll end the week by talking to Marc Newburger, one of the inventors of "The Drop Stop."
All that and more. So keep checking back, every day this week.